For a tourist it is convenient to combine a visit to Ähtäri Zoo or even to shopping center Tuuri. The Aurora Botnia, which operates from Vaasa, also attracts tourists to explore Umeå.
The city of Kauhava is located in the northern part of Southern Ostrobothnia in the center of Vaasa, Seinäjoki and Kokkola. Residents in the city 15,500.
PowerPark, which has about 400,000 tourists a year, has been chosen as the best leisure center in Finland.
In Kauhava, tourists are also attracted by e.g. Härmä Spa, Häjyt Isotalon Antti and Rannanjärvi, Iisakki Järvenpää Knife Factory, Lankava and other wonderful handicrafts, as well as numerous summer events.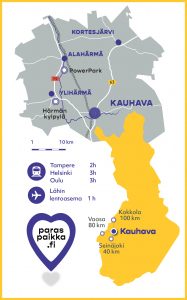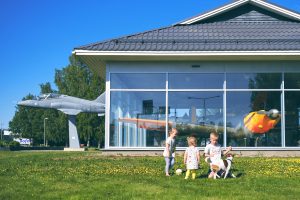 Kauhava has operated the Aviation School until 2014. Tourist can come to visit the Air War School's training planes In the downtown aircraft park.
Kauhava made a lot of investments in new schools and kindergartens. The picture shows Kauhava's new school center, which was opened in 2020. A new school was completed in the Ylihärmä district in 2021 and in Kortesjärvi in the spring of 2022. The PowerCup also has school accommodation in these schools